12/20/2017
Davinski 8 … It's Gonna Be Great!
OK Davinci Winterfesters!

It was so great to see many of you at WANY and GWA in NYC recently –
those were great events!
Here in Utah, it started snowing outside and it is now time for all of you to finalize your travel & accommodations to attend the Davinci Winterfest -- Feb. 8-11, 2018.
We already have close to 40 attendees confirmed (Thank you Earlybirds!) and rooms are going quick, so please make your arrangements as soon as possible… please see schedule and necessary info below.
We are very excited to host the GWA Board of Directors again this year for the in-person board meeting at Davinci – Thank you for making it happen!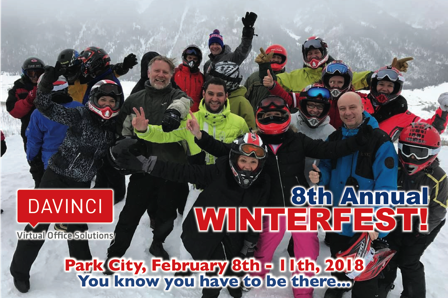 ​
The Industry's Premier Social Event of the Season: The upcoming 8th Annual Davinci WinterFest in Park City, Utah
Please RSVP via evite – use link www.dvos.co
Preliminary Schedule and Info
Wednesday, Feb. 7th
Early Arrivals and Tours of Davinci Facilities / Meet the Staff
2150 S 1300 E, Suite 200, Salt Lake City, UT 84106, Tel: 801-990-9200
GWA In-Person Board Meet at Davinci Virtual Office Solutions
Thursday, Feb. 8th
10:00am – Ski & Snowboard Day at the Canyons (Park City Mountain Resort)
1:30pm – Lunch at Canyons Village
7:00pm – Drinks & Food and Park City Watering Hole
Friday, Feb. 9th
11:45am – Davinci Snow Mobile Tour – departs PEAKS Hotel @ 11:45am!
Thousand Peaks Snow Mobile – www.thousandpeaks.com
7:00pm – Now Famous Davinci Theme Party at the Casa Grodnik
Saturday, Feb 10th
10:00am – Skiing at Deer Valley Ski Resort, meet at Silverlake Village Ski Beach
1:00pm – Lunch at Stein Eriksen Lodge – Silverlake Village Deer Valley
8:15pm – Farewell Dinner Event
Sunday, Feb 11th - Departures
Accommodation Choices (make your reservations NOW!!):
We have negotiated discounted rates at two hotels for you this year.
PEAKS Hotel Park City - rates starting at $269/night (incl. $20/day voucher)
http://www.parkcitypeaks.com
Simply Contact Reservations @ 435-649-5000 to reserve rooms.
Ask for Davinci rate!
Hyatt Place Hotel at Canyons Village - rates starting at $249/night
https://parkcity.place.hyatt.com
Simply Contact Reservations @ 435-776-1234 to reserve rooms.
Ask for Davinci rate!

Of course, many Air B&B / condo options are available as well – please contact us for help!
See you on the hill☺
Please, leave your comment